Books
Due to Colourtech's advanced printing technology, it is possible to print one book or as many as required at any given time. Regardless of the quantity printed, superior quality is guaranteed.
Book covers and binding options: hard cover, soft cover, perfect bind or wire bind, depending on your requirements and budget.
Our full colour printing expertise will make your annual report stand out! Your annual reports and high-end corporate identification material can be printed with many different colour formats, sizes and styles. Your superior quality annual reports will be a positive reflection of your company. Our 25 years of experience has enabled us to provide the best possible quality printing with a specific attention to detail that won't be found anywhere else. Be sure and request a sample of an annual report we have recently printed.
Annual reports
Hardback books
Perfect bound books
Wirobound books
Booklet staple books
Notebooks
Secure printing
Colourtech specialises in secure printing of especially exam papers for institutions such as IEB, North West University, IIE, Pearson and Benchmark Assessment Agency.
We place a high value on confidentiality and respect our clients' need to keep their material secure and safe. We have a 1000m2 facility dedicated to printing sensitive and high-risk material. This facility is equipped with a finger scanner that allows limited access to the premises and also cameras that are monitored and that record the actions in this area.
Our security is, however, not limited to this facility alone. All major access areas on our premises require a fingerprint scan that will grant only approved personnel access to the premises or area, as well as cameras monitoring all business and actions throughout the production, quality control and logistics areas. This video footage can be made available on request.
All vehicles that enter our premises are noted by a security guard who scans the license discs of all vehicles entering.
Over the last 15 years we have printed approximately 100 000 exam papers per year for OLG. The last three years we have printed approximately 80 000 exam papers per year for Pearsons (MGI & CTI) and over 400 000 exam papers for the IIE group.
Colourtech can boast that, in spite of the large quantities printed over the years, we have never experienced any leakages in our exam printing.
School diaries
Organise your learners, keep parents informed and support your educators. Gain control over homework with a compulsory, predesigned homework diary.
Marketing materials
We at Colourtech believe that, in a highly competitive environment, a flyer is still a reflection of your company, and that your reputation should not be tarnished due to poor quality flyers. As a mass-produced marketing tool, flyers are usually produced at high speed, using low resolution and little to no quality checks.
Colourtech prides itself in providing vibrant, high-resolution flyer printing, thereby enhancing your company's image.
Brochures tell your clients who you are and what you have to offer. Colourtech produces brochures of the highest quality that stands out from the crowd. We offer a vast array of paper stocks, folding and finishing designs in order to create a professional tailor-made brochure.
Make a big impact with your large format posters. Create the WOW factor by getting your striking posters out there. Alternatively, localise your posters by personalising each one to address its specific audience, thereby improving the response. Colourtech with its NEW WIDE FORMAT printers can produce and print as few or as many posters as you require, making your marketing budget work for you.
Brochures
Folders & posters
Invitations
Leaflets
Posters
Banners
Make your company's image come to life with an unforgettable visual effect that perfectly portrays your company — A BANNER!
Colourtech has perfected this powerful marketing tool, a colourful display which could ensure that a lasting impression is upheld. Our banners are lightweight, retractable and easily transportable. They can be assembled and dismantled without effort and easily and safely stored until needed.
1. Quick banner
The Quick banner is flexible and mobile, and has a stand-alone frame with no moving parts. It is affordable, durable and easy to use; lightweight and portable, ideal for conventions and exhibitions.
2. Classic roller banner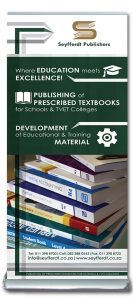 The Classic roller banner has a broader base for stability. This banner can be displayed in shopping centers, in-store displays, exhibitions, and many other venues.
The banner is automatically rolled into the base for storage and transportation. The body of the roller banner is constructed from aluminium with a silver anodised finish. No tools or training required. Single and double-sided versions are available.
3. Cross banner
The Cross banner is flexible and mobile, and has a stand-alone frame with no moving parts. It is affordable, durable and is easy to use. It is lightweight and portable, ideal for conventions or exhibitions.
4. X banner
The X banner is a simple, easy to use, lightweight banner. Ideal for use in retail outlets and shopping malls. Particularly useful where portability is a requirement.
5. Roller banner
The promotional roller banner is affordable and cost-effective. Ideal for point of sales, exhibitions, portable displays, and trade shows.
This banner is easy to use, lightweight and easily transportable.
Presentations
You do the talking. Our presentations will take care of the rest.
Professional presentations are all about a compelling narrative and strong visuals. Our experts can help you with both. Whether you have an internal sales deck, or something entirely unique, we can create the presentation that impresses your audience and best meets your needs.
Photobooks
Photobooks are a great way of showing off those special events in your life. Don't hide your photos on a memory stick or CD. Share them with family and friends and have a laugh at the good times.
Stationery
Colourtech can deliver on all your stationery needs. We print letterheads, second sheets and complimentary sheets, to name a few. Our highly experienced design team can assist in developing perfect, highly impactful stationery.
We respect that budgets are tight, and therefore we do not require minimum orders.
Because first impressions last, your business card is a crucial element of your corporate identity. Let yours work for you! We offer an unlimited variety of business cards, including folded cards, laminated cards, tent cards, to name but a few.
Business cards
Greeting cards
Letterhead and corporate signs
NCR pads
Envelopes
Training material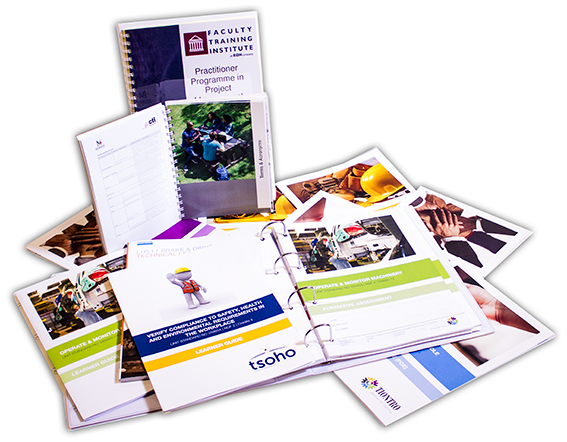 Comprehensible training material is key to an effective learning environment. Poor quality training material automatically creates a barrier to learning.
Colourtech has the ability to deliver quality results, in any required quantity, on demand. We have a wide range of products, including personalised name badges, wall charts, collated and bound training manuals, to name only a few.
Calendars
What better way to keep your business in the spotlight than with an annual customised calendar? To make the calendar even more striking, Colourtech can go as far as personalising visual images, making it even more applicable to your client and guaranteeing its retention.
Notepads
Notepads make for a great marketing tool. Every time your client writes a note they will be looking at your corporate logo, and when they are ready to place an order, your brand will be the first that comes to mind. Unlike a lot of marketing tools, notepads are usually retained. To make a notepad with even more impact, Colourtech can even personalise the notepad.
Variable data printing
Addressing your market as a whole is no longer good enough. You need to speak to every single individual as if they are your only client. With Colourtech's variable data printing capabilities, you can create a personalised message for each of your existing or potential clients. When partnering with us, direct mail pieces become a personalised, flexible and tailor-made marketing tool.
Magazines
Whether you want to print a small amount of magazines designed for a promotion or whether you are a small publisher, Colourtech will give you the highest quality magazines that meets all your expectations.
Despatch and warehousing
Colourtech has a warehousing logistics system that operates 24 hours per day, 7 days a week.
We specialise in despatching textbooks and learning support materials to schools, TVET colleges, training centres, universities, etc. all over the country and abroad.
Over the past few years Colourtech has invested in world-leading software. All parcels are barcoded, picked and scanned with our highly sophisticated warehouse system.
We do the despatch of all the Open Learning Group students (distance education students) of the North-West University, MGI, CTI, Rosebank College, private and public schools, and many TVET colleges. We print and dispatch all the learning material from our premises to all the students.
We also despatch school textbooks and educational materials for various training centres worldwide.
Deliveries
Colourtech ensures prompt delivery with its own fleet of delivery vehicles and logistics partners. We believe it's never enough to just design and print a client's requirements without paying attention to every small detail. Our job is only finished once our product has been delivered to the complete satisfaction of the client.
Colourtech has a hi-tech training venue, seating 100 delegates.
Customer care: 087 230 0550