Our printing department consists of: • 39 Digital printers
• 2 Litho presses • 7 Full colour digital printers.
AND OUR LATEST ADDITIONS: FIRST INKJET WEB PRINTER IN AFRICA!
High-speed inkjet (continuous feed) Truepress Jet520HD
A new generation of high-speed inkjet from the market leader. With a quality level that takes inkjet into new markets, the Truepress Jet520HD is set to change the way the industry thinks. With a paper range of 40gsm through to 250gsm, a wide gamut ink set that rivals offset and a workflow that puts you in control of your business, the Truepress Jet520HD is the perfect tool for commerical printing and publishing applications.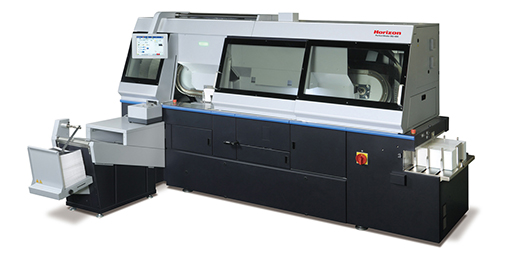 High-speed inkjet (continuous feed) Truepress Jet520HD
Horizon BQ480 Perfect Binder and in-line HT80 trimmer
Saddle binding and combined saddle.
Individual sheet folding for optimum thick book quality
Cover and insert sheet feeding
Unique and patented ISG cold glue binding available instead of wire stitching
Bar code tracking of all sheets and auto rejection of faulty books, to ensure integrity
Three-knife trimming with optional centre-knife
Complete range of book format sizes
Hang 260-00 Loose-leaf Paper Drill
XEROX Versant 2100 Press and XEROX Colour J75 Press (1 on premises),
Xerox iGen 4
Another exciting addition to our equipment is our offline varnish machine (below). Enhance the image on your cover while giving it a protective layer that keeps it new for longer.